https://bio.nikkeibp.co.jp/atcl/news/p1/22/07/26/09752/
https://bio.nikkeibp.co.jp/atcl/news/p1/22/07/25/09744/
By May 2022, Sanatec Seed https://sanatech-seed.com/en/ plans to sell four types of genome-edited Sicilian Rouge High GABA tomato puree with the following claims:
lower blood pressure in people with high blood pressure
relieve temporary mental stress caused by work or study
help improve sleep quality (depth of sleep and refreshed awakening)
maintain skin elasticity and protect skin health
The Sicilian Rouge High GABA is a tomato with a mutation that creates a stop codon in the autoinhibition region of SlGAD3, a GABA synthesis gene, to increase the activity of biosynthesis, thereby increasing the gamma-aminobutyric acid content (GABA).
After regulatory permission in April 2021, Sanatec Seed started to deliver Sicilian Rouge High GABA tomato seedlings free of charge to more than 4,000 recipients, spreading information through social networking services in an effort to create a buzz. For the recently launched tomato puree, however, there were inquiries from supermarkets that wanted to place it in their stores. As a result, the company is gradually expanding its sales channels from direct sales to retail outlets.
Sanatec Seed is also planning to add additional functionalities to the tomatoes by genome editing, such as traits for "high lycopene" and "high sugar content". The company is also considering to improve melon varieties by genome editing.
Regional Fish in Kyoto https://regional.fish/en/ is a company engaged in genome-edited seafood breeding and has so far launched two genome-edited food products: a red sea bream with increased edible portions, and a high-growth tiger puffer fish. The latter was selected as a hometown tax return gift by a local government in Kyoto Prefecture. Genome editing is based on the myostatin gene, which suppresses muscle hyperplasia, and which has been partially deleted by CRISPR/Cas9, causing a deficiency in its function. The advantage is that more edible parts are obtained for the cost of feed, with an average increase of about 1.2 times the amount of edible parts and an increase of about 14% in the ratio of weight gain to feed consumed. Bone volume is reduced by about 31%, inferring that the energy to build bone is being diverted to muscle.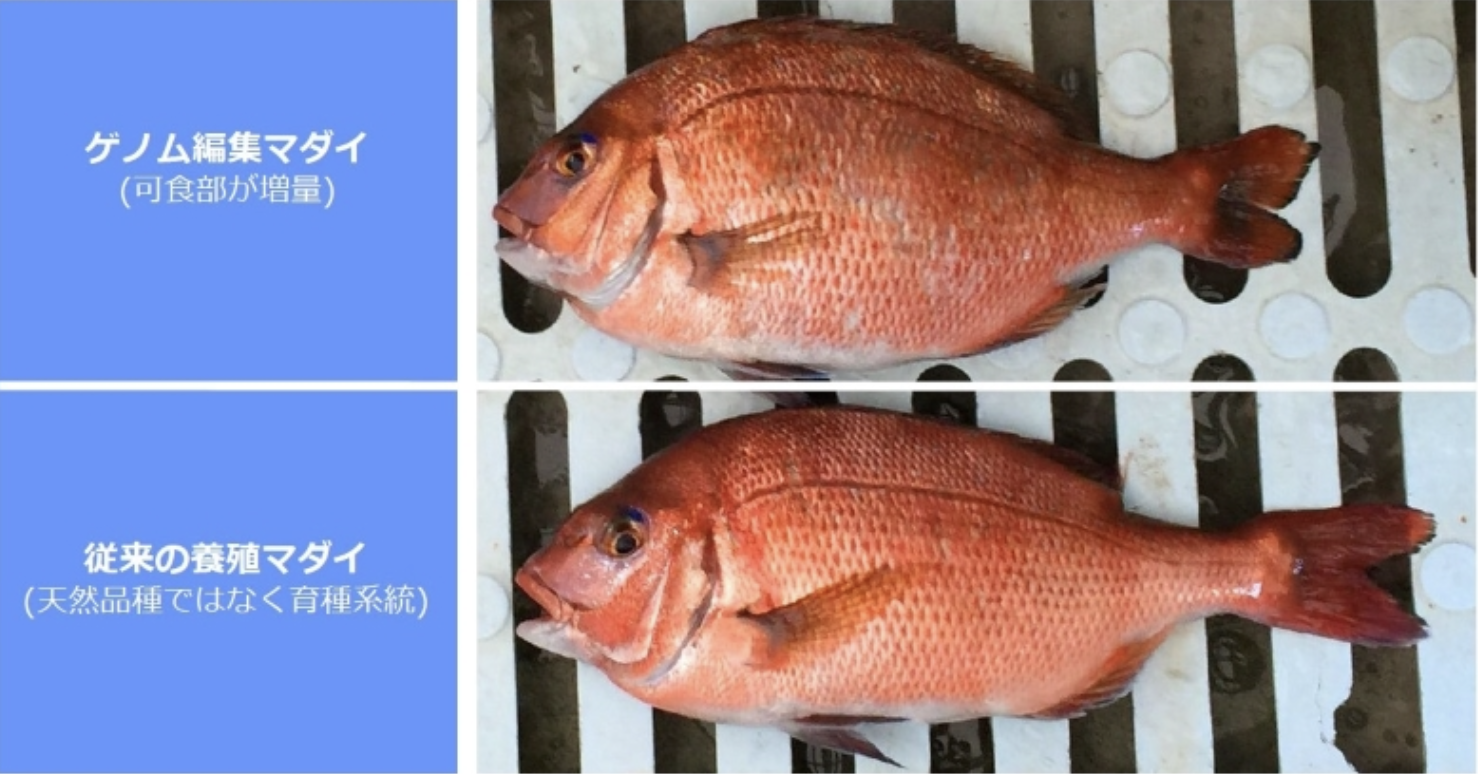 The company has basically focused on direct sales through crowdfunding and the Internet. The executives believe that "it is important to convey the contents of the product to those who are initially interested". Essentially, it is difficult for consumers to understand the advantages of red sea breams with more edible portion and high-growth tiger pufferfish, and it is mainly the producers who enjoy the benefit. Thus, the company aims to develop products that clearly benefit consumers such as shrimps that have fewer allergens. The main allergen in shrimp is tropomyosin, a muscle protein. Knocking out the entire protein would dramatically change the phenotype, thus mutations that target the allergenic epitopes will be chosen. However, there are many such epitopes, and it is difficult to make the protein completely allergen-free.
Genome-edited tomatoes and fish meet marketing challenges in Japan