NEDO has started a new program integrating former projects on microalgae biojet fuel (see: IHI and and biomass hydrothermal gasification with Showa Shell Oil, a company which commercializes jet fuel already. Partners will be 5 companies and the Japan Aerospace Exploration Agency JAXA. First, pure biojet fuel produced in pilot plants will have to conform to the standard ASTM D 7566. By further mixing with conventional petroleum-based jet fuel, the standard of the conventional fuel (ASTM D 1655) must be reached. NEDO expects commercialization around 2030.
NEDO news release, December 3, 2018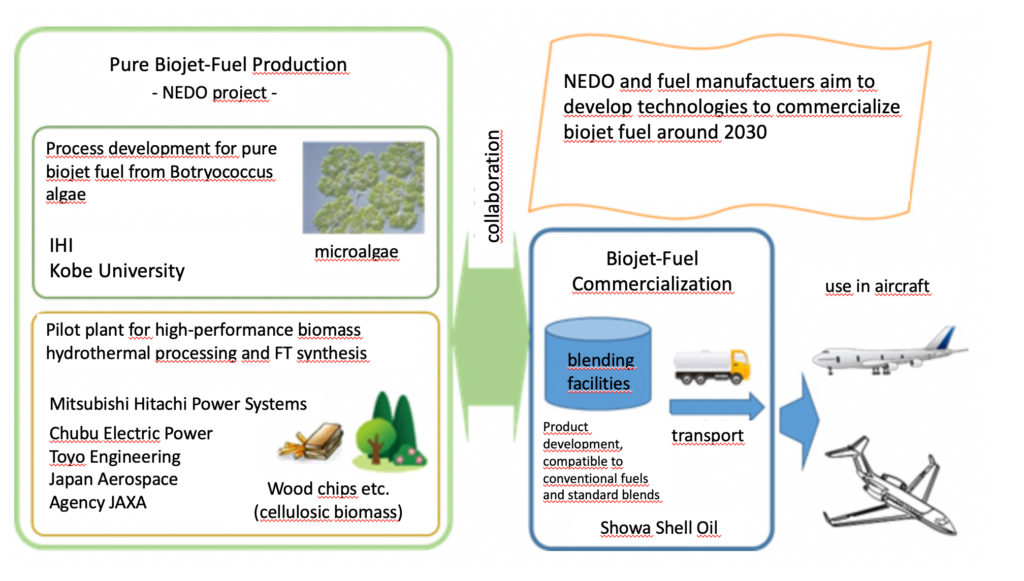 On April 19th and 20th, hydrogen was used as the only fuel to provide 2800 kW of heat and 1100 kW of electricity to the two facilities of Kobe Port Island central civic hospital, to Port Island sports center, and to Kobe International Exhibition Hall. The performance...
read more
Window-to-Japan
Full content list of all entries in News
As studied by Associate Professor Kentaro NAGAOKA and colleagues at Tokyo University of Agriculture and Technology in mouse experiments, hydrogen peroxide produced in breast milk via amino acid oxidases acts as a gatekeeper for bacteria which gradually form the baby's microbiome. Microorganisms such as lactic acid bacteria which have catalases preferentially enter the baby's intestine.
https://www.fasebj.org/doi/10.1096/fj.201801462R
RIKEN news release, November 16, 2018
The meeting in Osaka will be simultaneous to a meeting of Shire Inc. shareholders in London and decide whether Takeda will acquire Shire.
Nikkei Biotech news release, November 13, 2018
The group of Associate Professor Kuniharu TAKEI prepared a CCD structure on a flexible film creating a wearable device that could measure the pH value of sweat with high sensitivity. It also records skin temperature and thus can be developed into a daily health management tool. The charge transfer flexible pH sensor incorporates a structure that adjusts the Schottky barrier of the transistor material and the electrode. It also contains a flexible temperature sensor which corrects the electrochemical data. Sensitivity was 4 times higher compared to commercially available pH sensors, and pH value in sweat could be measured constantly for about 1 week by sticking the sensor to the skin like a bandage.
JST news release, November 13, 2018
SI – 449 is a crosslinked chondroitin sulfate developed as a medical device. It is an anti – adhesive material that spreads and swells after spraying it on surgical wound areas inside the abdominal cavity, etc., reducing postoperative adhesions. It is intended for use after laparotomy and endoscopic surgery.
Nikkei Biotech news release, November 12, 2018
Ad-SGE-REIC is a gene therapy in which the cancer-suppressing gene REIC (Reduced Expression in Immortalized Cells) discovered at Okayama University is incorporated into an adenovirus vector. When the REIC gene is forcibly expressed, cancer cells selectively cause cell death. According to the company, 10 interim analyzes will be carried out in 10 cases during phase II which was started in June.
Nikkei Biotech news release, November 7, 2018
Japan has one of the largest geothermal resource potentials in the world. Japanese resources are estimated at a maximum of 23.47 million kW. About 30 % of these resources are acidic hot water which is presently unused due to corrosion problems. NEDO will support new technologies which overcome this problems. The consortia formed include Fuji Electric, Nagoya University and the National Ocean R&D Organization.
NEDO news release, November 6, 2018
The highest per capita consumption of cheese is in the world is in Greece, cheese intake per day is 85.2 g, and the intake of chymosin contained in cheese is estimated to about 5.6 μg. Japanese daily cheese intake is 6.5 g per capita and chymosin intake is estimated around 0.4 μg. In the 9th edition of food additives announced in February 2018 by the Ministry of Health, Labor and Welfare and the Consumer Agency, chymosin can be derived from "Ruminant Animal Stomach (Limited to Irpex lacteus), filamentous fungi (Cryphonectria parasitica, Mucor miehei, Mucor pusillus Lindt, Mucor spp., Rhizomucor miehei and Rhizomucor pusillus), yeast (limited to Kluyveromyces lactis) or bacteria (Bacillus cereus and Escherichia coli. DSM applied for Maxiren XDS, a new type of chymosin prepared by protein engineering and expressed in Kluyveromyces lactis. The enzyme is already approved in the USA. Chr. Hansen's chymosin CHY-MAX-M is derived from camel prochymosin and expressed in Aspergillus awamori. The number of amino acid residues of camel chymosin in CHY-MAX M is 323, the same as that of bovine chymosin, and homology of amino acid residues is 85%. The specific activity of camel chymosin to cleave the Phe105– Met106 bond of κ-casein, essential for producing curd, is 1.7 fold higher than that of calf rennet.
Nikkei Biotech news release, November 1, 2018
NEDO and Hitachi Kasei, Hitachi Power Solutions and NGK Insulators have completed a large-scale hybrid storage battery system in Farrel city, Lower Saxony, Germany and will start operation from November 1, 2018. The system consists of two types of storage batteries with different characteristics (lithium ion battery and sodium sulfur battery, total capacity 11.5 MW / 22.5 MWh). By making the system capable of high power, large capacity, chargeable and dischargeable, adjustment of the electricity supply-demand balance will be easier to reach and help to the stabilize input of wind energy into the power grid. A business model of new power trading based on this system will also be developed.
NEDO news release, October 31, 2018
Adipo Medical Technology Co. (AMT), an Osaka venture company, operates an AMED-supported project on the "Development of Multiple Lineage Precursor Cells from Allogeneic Adipose Tissue as a Cellular Medicine for the Treatment of Severe Heart Failure", under project leadership of Akinobu Matsuyama at Fujita Medical University. Otsuka has announced that it has signed an agreement with AMT on a joint development of this technology including clinical trials.
Otsuka Pharmaceuticals news release, October 30, 2018
Within the "Oto1-project", Mitsui Chemical's plant cell cultivation technology and Chitose's microorganism active cultivation technology  will be jointy exploited and used for joint business development.
Mitsui Chemicals news release, October 29, 2018
Lion Co. introduced its SMT test (salivary multi test) in May 2016. The test strip kit allows the simultaneous measurement of six saliva indicators within 5 minutes: cariogenic bacteria, pH and buffer capacity, leukocytes, proteins and ammonia, as an indicator related to oral cleanliness. After many field tests including 80 employees of Lion in Hirosaki City, it turned out that the test has raised awareness about good oral hygiene and has led to improvement of oral health as judged by dentists evaluation.
Lion Co., https://www.lion.co.jp/en/company/rd/topics/06.php
Pharma Foods has developed a novel type of antibody directed against an autoimmune disease which was not further specified. The antibody difficult to prepare by conventional technology was prepared by Pharma Foods' proprietary technology "ALAgene" from chicken.
Pharma Foods news release, October 22, 2018
Daicel has collaborative research with Nihon University, using wild-type bacteria, which produce erythritol from glycerin. Chitose is a specialist in bacterial mutagenesis and has developed a process for microbial butanediol production. Both companies will collaborate to improve the yield of various C-4 compounds from glycerol.
Nikkei Biotech news release, October 24, 2018
The Ministry of Environment has decided to stop free distribution of plastic shopping bags from 2020. Appropriate replacement of bags from renewable resources such as recycled materials, paper and biomass plastics will be supported. By 2030 it is aimed to have introduced biomass plastic at a level of about 2 million tons.
Nikkei Biotech news release, October 23, 2018
In a future doctor-led trial, cartilage of a patient's knee is collected with an arthroscope, and self-laminated chondrocyte cell sheets (2 or more) are manufactured at the hospital's cell culture center. At the time of high tibial oseotomy, defective tissue is excised and self-laminated chondrocyte sheets are transplanted following bone marrow stimulation. The number of subject cases is 20. The main endpoint is the effectiveness at 1 year after operation. Implementation period is 4 years for case registration, and 5 years for total observation period, totaling nine years.
Nikkei Biotech news release, October 23, 2018