The caterpillar larvae of bagworm moths (Tineoidea, jp. Minomushi) form bags f from silk and bamboo material. In collaboration with the National Agriculture Research Organization, Kowa Co. has managed to isolate long fibers from this network, without killing the larvae, and established an effective yarn drawing method. Compared to spider's silk, this fibre is about 2.2 times as strong, and shows heat resistance up to 340 C. Kowa Co. will try to commercialize this patented finding.
Kowa Co. news release, December 5, 2018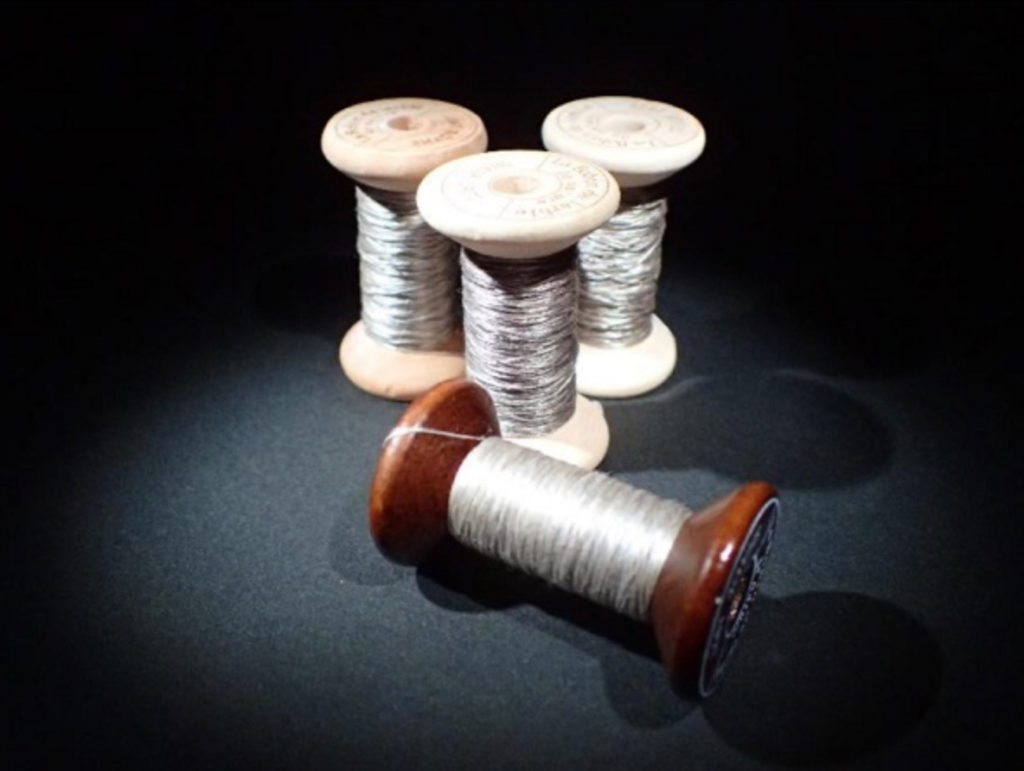 The caterpillar larvae of bagworm moths (Tineoidea, jp. Minomushi) form bags f from silk and bamboo material. In collaboration with the National Agriculture Research Organization, Kowa Co. has managed to isolate long fibers from this network, without killing the...
read more
Window-to-Japan
Full content list of all entries in News
The office was opened on Nov. 1, 2018, followed by an opening ceremony on Nov. 29.
RIKEN news release, December 7, 2018
The tripeptide (methionine – lysine – proline) isolated from casein degradation has been shown to be an ACE inhibitor and lower systolic blood pressure in man. This development follows up on lactotripeptide present in Calpis products since 2012, and other peptide-based developments.
Nikkei Biotech news release, December 7, 2018
According to a business presentation meeting of Mitsubishi Chemical Holdings, the companies Life Sciences Institute LSII hs completed, in October, the facility for the manufacture of heterologous MUSE cells. For 2019, triple sales of biodegradable BioPBS (bio-based polybutylene succinate) are expected.
Nikkei Biotech news release, December 5, 2018
"Society 5.0" is seen as a human-centered society where people can live a comfortable, vibrant and high-quality life by providing goods and services that respond to individual needs. In Society 5.0, a huge amount of information from sensors in the physical space is accumulated in the cyber space, and AI analyzes big data. The result are fed back to the humans in the physical space in various forms, and new value will be brought to industry and society. Basic technology consists of four research and development items, (1) cognitive interaction support technology (such as development of work training and support system for workers contributing to productivity improvement by fusion with AI (adopted theme, (2) advanced multimodal dialogue processing technology (development of spoken dialogue system using dialogue scenarios contributing to elderly care nursing, (3) learning support technology (development of tailor-made education to propose optimal learning materials), and (4)nursing care support technology (development of AI technology to support autonomous symbiosis of dementia patients. The program will run through FY2022.
NEDO news release, December 4, 2018
Suntory has announced that they deciphered the genome of muscat Bailey A, the most widely used red wine grapes harvested in Japan.
Suntory, ASEV Japan meeting, November 18, 2018
ALS is a refractory neurological disorder characterized by muscle atrophy due to disorder of spinal motor neurons. A team of Keio University Hospital has generated iPS cells from tissues of patients with neurological disorders and developed a drug screening method based on these cells. Ropinirole hydrochloride, a dopamine receptor agonist, developed by GlaxoSmithKline. When ropinirole hydrochloride was applied to patient's iPS cell-derived motor neuron model, ALS pathology such as neurite shortening, increased apoptosis, mitochondrial dysfunction, abnormal protein aggregation, enhancement of oxidative stress, etc. was improved. Furthermore, neuronal cell death of motor neurons, the cause of ALS, was suppressed. The clinical trial will be the first to use ropinirole hydrochloride for ALS patients.
AMED news release, December 3, 2018
Olympus has built a joint venture with Korea's Sewon Cellontech under the name of Olympus RMS Co., Ltd. This JV has developed in Japan from autologous tissue a CCI kit (Cultured Chondrocyte Implantation kit), for the treatment of traumatic cartilage defects of the knee joint and transdermable osteochondritis, and will start clinical trials in Japan.
Olympus news release, November 29, 2018
Researchers at Keio University prepare for clinical studies using neuronal precursor cells derived from allogenic iPS cells. It is expected that such treatment can alleviate paralysis symptoms in patients with subacute stage spinal cord injury ("spinal cord injury 14 to 28 days after injury"). There are more than 100,000 patients in Japan, and there is presently no cure. According to the clinical study plan, the iPS cells will be supplied from Kyoto University's CiRA and transplanted to the damaged part of the spinal cord. After transplantation, immunosuppressants will be used for a certain period of time, followed by rehabilitation treatment within the scope of normal insurance treatment, and patients' condition will be followed up for about one year.
Keio University news release, November 29, 2018
The objective is to help Konica Minolta and acquired companies in  decision-making for R & D, and to accelerate the development of companion diagnostic (CDx) technologies and services.
Nikkei Biotech news release, November 28, 2018
A joint team at TIT and AIST has developed a largely improved system for production of formic acid from CO2, using a Cu (I) photosensitizer and Mn (I) catalysts. The quantum yield was 57%, the turnover number 1300 times or more.
JST news release, November 28, 2018
The facility will be built in Rayong, Thailand, with production and purification facilities 100 times larger than the company's production facilities in Tsuruoka, Japan. Construction will start in mid-2019, and commercial production is planned for 2021. Processing of the raw material to spider silk fibers will remain in Japan. Spiber has raised 5 billion Yen for this project from 3d parties, e. g., Cool Japan Organization.
Spiber news release, November 28, 2018
Satoru OKUDA and colleagues at Kyoto University's Virus and Regenerative Medicine Research Institute have elucidated the mechanism by which the form of eye balls is shaped. First, myosin gathers on the inner surface of nerve tissue that protrudes from the brain, and the inner surface is contracted. Next, the distal end of the protruding tissue differentiates into retinal tissue, and the function of myosin is weakened, allowing retinal tissue to enter the inside. During this spontaneous entry of retinal tissue, cells at the boundary between retinal tissue and the surrounding retinal pigmented epithelium (the edge of the cup) are forcibly bent. Cells at this boundary sense this mechanical force and actively contract along the thickness direction as a trigger to push the retinal tissue further inward. Thus, the boundary cells fine-tune their round shapes while feeling the degree of deformation of the whole eye cup tissue through mechanical force. Understanding and manipulating the shaping of organs in test tubes is important for controlling the three-dimensional shape of cell organizations used for regenerative medicine.
JST news release, November 22, 2018
In the framework of the 2030 Agenda for Sustainable Development of the United Nations, JST has prepared a "dark archive" of published papers providing for siutations where electronic journals are cut off due to natural disasters or other events. The service is provided by Portico, a non-profit US organization, https://www.portico.org/publishers/jstage/
JST news release, November 21, 2018
GRAS – Di (Genotyping by Random Amplicon Sequencing – Direct) allows to amplify thousands to tens of thousands of genomes with high reproducibility by adjusting original primers. The technology was invented by Toyota in the framework of biomass-to-fuel and environmental greening projects and licensed by Eurofin Genomics in 2017. JT will use the technology to improve agriculture, forestry and fishery varieties breeding.
Toyota Motors press release, November 20, 2018
Immunotherapy has become a fourth treatment method for cancer in addition to surgical treatment, radiation treatment and chemotherapy. For immunotherapy, a large supply of antigen-specific killer T cells are required. A team around Kaneko SHINZO at CiRA showed that when they used an iPS cell stock not derived from T cells (a HLA homologous iPS cell stock) and introduced T-cell receptors with appropriate antigen information, they could prepare regenerative killer T cells with full antigen specificity. The T-iPS cells were successfully tested in mouse models
AMED news release, November 16, 2018